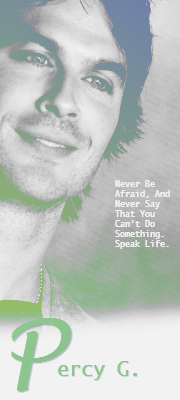 Percivall A. Gandorff
Administrator





Alias

: Tony


Posts

: 39


Job

: President of Panem


Money

: 50230


Member Since

: 2013-11-23


Location

: USA - Central


Subject: Gandorff, Percivall A. Sat Nov 30, 2013 5:52 pm

---

Percivall Alexander Gandorff

THIRTY-TWO - MALE - CAPITOL - PRESDIENT OF PANEM

General Information


FULL NAME Percivall Alexander Gandorff
MEMBERGROUP Capitol
JOB President of Panem
SEXUAL ORIENTATION Heterosexual
BLOOD Muggle



Relationships


RELATIONSHIP STATUS Single
FAMILY
- MOTHER: Mary Ann Gandorff, 60, Deceased
- FATHER: Edward Gene Gandorff, 63, Deseased
- BROTHER: Leonard Gene Gandorff, 35, Living




Personality



KIND 5
INTELLIGENT 10
TALKATIVE 5
SERIOUS 8
HELPFUL 6
SELFISH 4
RESOURCEFUL 7
RESPECTFUL 9
RISKY 10




Likes & Dislikes



LIKES Quiet, Reading, Winning, The Hunger Games, Children
DISLIKES Annoyances, Loud Noises, Fighting, Arguing, Drama



Never Say You Can't, Always Say You Can



I grew up in the tallest tower of the Capitol. Looking out over the sea of lights, I knew that I was in the best place in the world. I had a family, money, a home, a soft bed, many clothes, which some I never even wore, everything you could have ever imagined. But I still wanted something special.

I told my parents that I think that I wanted to be someone big when I grew up. They thought I meant size, but I meant as in popularity, wealth, fame.. For some reason it all fascinated me. I wanted to be in charge. I wanted to rule so bad. But they would always tell me that just because I was born in the Capitol, didn't mean that I would be rich and famous one day. This was true. There are plenty of Capitol people I don't even know. I can't name on hand the first and last names of the ones I talk to. This isn't right, I suppose. I'm the President. I'm supposed to be encouraging, and everything else.. But I never thought about that, until now.

When I watched my first Hunger Games, it was fascinating how the Tributes teamed up against each other so quickly, and how alliances broke quickly sometimes, which was interesting and unexpected in my opinion. During my younger years, only Districts one through twelve had to participate. This was before I became President. I just began my Presidency after the war, in 153 ADD, just after the war ended. I was young. And unexperienced with systems like Panem. I didn't understand why I chose to make Capitol children and District Thirteen participate, it just came to me, because we saved them too right? It didn't seem fair. Plus it would dial down the rebellion. At least I think.  


__________________________


Strength Always Comes From Within.